Navigation
Ignite – Inspire – Apply
Speaking Topics for Christian Women Events
Thank you for visiting my Speaking Topics page. If you do not see a topic that fits your event, I will prayerfully consider your theme and share a biblically based message that connects with your specific needs for your event.
Be Blessed!
Pat Domangue
Speaking topics can be 1-3 sessions for a brief luncheon, a half day or full day conference, or weekend retreat.
Invite Pat to Speak
---
Speaking at Heart to Home Conference
Thirsty Woman With A Messy Life is the story of the woman at the well from John 4. I weave our life stories together in a unique and relevant way that identifies with women and the struggles we commonly face.
We identify with the thirsty woman in need of what only Jesus can give and experience an encounter with the only One who can quench her thirst. Finally, we see how this one woman's encounter changed her world and the lives of others as her transformation compelled her to live unashamedly for Jesus.
---
Speaking at Unveiled at First Baptist Orlando
Equipping and Empowering Today's Woman prepares women for the spiritual battles we face. We live in a culture of unmatched seduction and deception. Evil influences bombard our senses everyday. Too many women live defeated because of a lack biblical knowledge and not being aware of how Satan works.
In this Bible study, we will learn how to recognize the battle, how our spiritual enemy operates, and how to identify specific traits of the Lord invaluable to our victory. We will address possible weaknesses, personal potential, and effective weapons available to us in Scripture.
---
Speaking at the Deep Conference
One Touch; One Passion is the story of the woman with the issue of blood in Mark 5:25-34. Her story reminds us that we all have issues. I connect the woman's unclean state to my own sexual assault experience as a young teenager. Connecting my story with hers helps other women identify where their own story intersects
In this message, we recognize the safety of coming to Jesus with our issues and how facing our issues and reaching out by faith to experience Jesus' healing leads us to wholeness.
---
Speaking at Southwest Baptist Theological Seminary
God's Word, His Light, and My Path is based on Psalm 119:105. King David is the author of this Psalm. David treasured God's word because he understood the impact of God's word in His life
 In this message, I break down the passage in detail where we see how personal, practical and powerful God's word is in our life. We learn that God's Word is the place where God meets with His people and invites us to an intimate relationship with Him.
Speaking at BeautyFully Alive Retreat
My Maker And Me is a look at God as our Creator and Potterand the clay, His people. Pottery is used throughout Scripture to reveal who God is and how He works with His people. Christian women learn from looking at the basics of pottery and understanding how God is at work in our life.
In my first pottery class, my teacher said, "Foundation is crucial," which reminds me of the words of Jesus in Matthew 7:24-27. We will focus on having the right foundation and the various stages of pottery making and how it correlates to our journey with Christ as He shapes us into a beautiful and usable vessel.
Speaking at Battle Conference
Experiencing The Overthrow – In John 10:10,Jesus said that He came to give His people life, and life more abundantly. The life He offers overthrows our greatest expectations of life. What does it take to experience that overthrow?
I share from my own personal journey of learning to live above and beyond my own expectations of life, to enjoy real life, and to experience the true life Jesus intended. We all have storms, but we are meant to walk on water.
Pat at First Baptist Orlando
Chains is my personal testimony where I use a powerful visual incorporating chains to demonstrate how I was bound by sin. I share how Jesus took me from a dark pit to the bright place of His salvation, freedom, and total trust.
Because God's Word transformed my life, I want women to know the power of His word. My story inspires and encourages Christian women to pursue wholeness and apply God's word to their everyday life.
Chains can be shared with any other speaking topics.
Invite Pat to Speak
"HOW TO" WORKSHOPS:
DIG Workshop – DIG is a How to Study the Bible workshop. Many Christian women feel that they should know the Bible, but struggle with understanding and grasping its message. Pat takes basic elements from her book, DIG and helps women grow in their ability to read and rightly divide God's Word.
In this workshop you will gain practical knowledge, available resources, and learn study processes that will help break down barriers and impact your understanding. This workshop is for women who will never attend seminary but want to study the Bible in a way that is practical and beneficial to their everyday lives.
Designing Your Ministry –This workshop can be for your current ministry team or for the pool of people from which your leadership will come. This originally was designed to help a women's ministry team get started. When God called me into ministry, I had no idea what to do or how to go about developing a working ministry team. When God calls us to ministry, we often feel ill-equipped in the practical elements of getting started.
In this workshop I teach Seven Steps to Getting Your Ministry Started. This can help anyone or any team get started or possibly give a recharge to an existing ministry. We start with the calling and go all the way through the planning stages.
MEN'S OR MARRIAGE EVENT OR RETREAT
Is My Heart Safe With You? – This is the question every woman wants her man to answer. While I believe God has specifically called me to minister to women, I also speak to men who are husbands, who will be husbands giving them insight into the hearts and needs of the wives. I call this my back door approach to ministering to women. If I can speak truth into their husbands lives, I can touch and minister into the lives of the wives.
I speak open and vulnerable from my first two failed marriages and from the lessons and changes I have made and experienced in my current marriage of twenty-three years. I know how to fail in marriage and I have learned how to be successful in marriage.
INTRODUCE OR CONCLUDE A BIBLE STUDY
If your group chooses to use any one of my Bible studies, I will come teach your introductory lesson or conclusion of your study. Published Bible studies that are readily available for groups are: Quest For Wholeness; Equipped and Empowered; and DIG.
Other studies that I have written and could be used are: My Maker and Me; Not Home Yet; and Words Matter. These studies would require six weeks to have printed and made available for your group.
Invite Pat to Speak
Click here to view the full version of the introduction to OnFire Ministries
Book Pat to speak at your next Women's ministry event.
Book Pat to Speak
Pat Domangue
Founder of OnFire Ministries Author, & Speaker
See Pat's Vision Video
Meet Pat Domangue
Subscribe to Newsletter
Sign up to receive my newsletter and other updates and get a free PDF of Prayer Matters: The Basics of Prayer
I respect your privacy. I will not share or sell your information.
Blog Post Categories
CounterCulture Women
Devotional

Christian Devotionals
Devotionals – Jesus
Faith Devotionals
Hope Devotionals
Peace Devotionals
Trust Devotionals

Encouragement Devotionals
Family
Identity in Christ
Marriage
Podcast
Spiritual Healing
Uncategorized
Video Blog Series
Womens Ministry
Podcasts
Hear our latest podcasts
Read our podcast transcripts
Audio and Video
CounterCulture Women Audio & Video
Finding God
Do you have a personal relationship with Jesus?
Find out how you can 
Store
Books, dvds, custom made jewelry and more!
OnFire jewelry
Featured Product
Latest Bible Study Book
  DIG – Digging in God's Word
More details
Find Us on Facebook
Events & Entertaining
Food & Drink
Relationships & Family
Style
Weddings
Fun Things to Discuss in a Women's Group
by Kelly Brown ; Updated December 01, 2017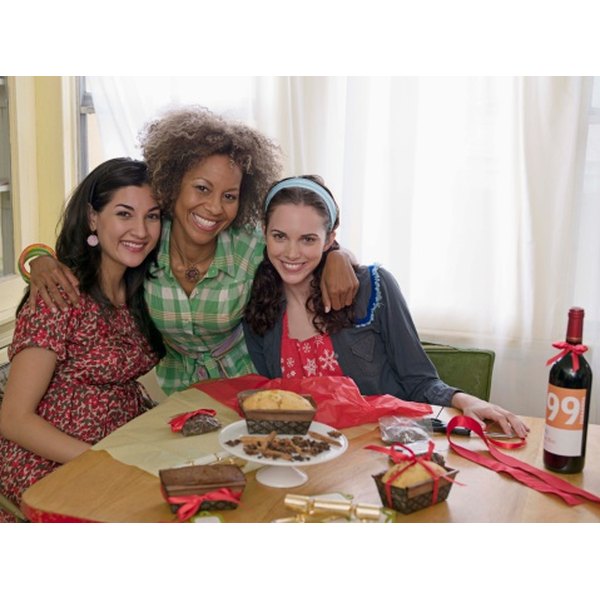 Related Articles
1

How to Keep a Relationship Casual & Fun

2

How to Feel More Comfortable Talking to Men

3

Great Questions to Ask Women on First Dates

4

Teenagers and the Importance of Friends
A women's group is designed to be a supportive, educational and fun environment for women. Groups can be organized by age, cultural heritage, common interests, profession or no specific factor other than being female. Some groups focus on activities and others are merely for talking. Though conversation might flow without assistance or direction, organizers often find providing direction for discussion is helpful and keeps a group thriving. Having one person lead the discussion, especially when a group is new, helps members feel at ease and willing to share. If you're the one leading the group, having a few prepared questions in mind can help to restart a conversation that seems to have stalled. General questions where everyone shares something about themselves can help to bond a group of women who do not know each other well.
Family
If your discussion group is age-oriented, focus discussions on the most common issues women of that particular age deal with. For a group of stay at home mothers, discussion topics might include ways to keep children active, dealing with picky eating, balancing school and family time and managing sibling rivalry. If your group of women do not all have children, focus on other things they might have in common including hobbies, careers or other relationships. Women gathered in a knitting group or sewing circle might have older or grown children in addition to their shared interest. Discussion topics include hosting family get-togethers for the holidays, playing an important role in the lives of grandchildren and supporting adult children without interfering. Asking a new group of women about topics they would like to discuss can help you to plan future sessions and help the other participants to have a sense of ownership about the group. Be sure to leave time in any discussion for everyone to ask questions or give feedback.
Health
Talking about health concerns with other women can be educational and empowering. Though discussing health issues with your doctor is always best, you can take comfort in knowing other women share your struggles. This is especially true if you are dealing with a disease or medical condition such as cancer, fibromyalgia, arthritis or depression. Discussions should be uplifting and hopeful. Talk about home remedies, methods for relieving symptoms or diet and fitness improvements with your discussion group. Members can also share thoughts on treatment options, local doctors and other resources. Though some might think talking about an illness is depressing, it is surprising how inspired you can feel after sharing with people who are in the same boat as you.
Editor's Picks
How to Keep a Relationship Casual & Fun
By: Ashley K. Alaimo
How to Feel More Comfortable Talking to Men
By: C. Giles

Great Questions to Ask Women on First Dates
By: Leah Campbell

Romantic Relationships
Women of all ages enjoy confiding in one another about romantic relationships. Many single women love to talk about dating and women in long-term relationships relieve stress by sharing frustrations and challenges. If your group includes a mix of older and younger women, create discussions in which the experienced women share opinions on building successful relationships. Ask more experienced women about ways that they keep romance alive, or how they balance career and personal relationships. If discussions in your group get particularly intense or personal be sure that members agree to keep any discussions within the group.
Entertainment
Sometimes the best fun discussions are about non-serious issues such as books, movies or celebrities. Women with an interest in popular culture might feel as if their partners, co-workers and relatives do not share their interests in TV shows or books. Focus discussions about books or movies around theme, characters and plot. Some examples might be mysteries, books written by women of color or books that feature a strong female character. Discussion groups gathered to talk about a particular person can focus on accomplishments or upcoming public appearances. Gathering a group of women with a shared interest often sparks deeper friendship.
Our Everyday Video
Brought to you by LEAFtv
References
Smallgroups.com; Tips for Facilitating a Group Discussion; Carter Moss; July 23, 2008
Brown University: Facilitating Effective Group Discussions
Stanford: Facilitating Group Discussions
Photo Credits
Jupiterimages/Brand X Pictures/Getty Images
About the Author
Kelly Brown began writing professionally in 2003. She has written for online publications and companies like Essential Health Australia, Beltex Whole Body Health, Advameg, Inc. and many others. Brown attended the College of Notre Dame of Maryland and Frostburg State University where she majored in communication arts and liberal studies.
Related Articles
How to Be Friendly and Reach out to People in Sincerity to Make Friends

Young Single LDS Adult Activities

Indoor Activities for the Elderly

Ideas for a Girls Ministry Activity
Reasons for Dating Older Men

How to Get a Guy to Go From Friendship to Romance

Why Some Men Aren't Successful With Meeting Women

Women's Church Group Ideas
Popular Articles
Indoor Activities for the Elderly

Ideas for a Girls Ministry Activity
Reasons for Dating Older Men

How to Get a Guy to Go From Friendship to Romance
More Articles
Why Some Men Aren't Successful With Meeting Women

Women's Church Group Ideas
Fun & Spiritual Programs for a Young Women's Church Group

Topics to Talk About With Friends
Who We Are

Our Ministry
Our Cause – Beautiful orthodoxy
Stories
How to Partner

What We Do

Christianity Today
CT News & Reporting
CT Pastors
CT Women
CT History
CT Books

Building Church Leaders
Church Law & Tax
Christian Bible Studies
Preaching Today
Small Groups
Women Leaders

Newsletters
Give Now
Who We Are

Our Ministry
Our Cause – Beautiful orthodoxy
Stories
Partner With Us

What We Do

Christianity Today
Building Church Leaders
Christian Bible Studies
Church Law & Tax
CT Pastors
Preaching Today
Small Groups
Women Leaders
Give by Check

Newsletters
Give Now
Jump directly to the content

Explore

Homepage
Browse Topics

Faith

Spiritual Growth
Self-Care
Culture

Relationships

Family
Marriage + Sex
Parenting
Divorce + Blended Families
Friendship
Singles + Dating

Church Life & Ministry

Service
Women's Ministry
Mentoring

Work

Our Latest
Must Reads
The Magazine
Special Sections
Lifework

Diane Paddison

Flourish

Sherry Surratt

Wild Hope

Austin Channing Brown

Re: Arrangements

Carolyn Arends

Cross + Culture

Helen Lee

Live Love

Margot Starbuck

Videos & Images
Help

About Us
Contact Us
Who We Are
Writer's Guidelines
Donate
Advertise

Must Reads
The Magazine

About TCW

Store
Browse All Topics
a
b
c
d
e
f
g
h
i
j
k
l
m
n
o
p
q
r
s
t
u
v
w
x
y
z
Abortion
Abuse
Acceptance and Identity
Accountability
Activism
Addiction
Addiction, Food
ADHD
Adjustment
Adolescence
Adoption
Advent
Adventure
Affair
Afterlife
Aging
Alcohol
Alone
Ambition
Angels
Anger
Anxiety
Appearance
Arguments
Arts
Attitude
Authenticity
Authority
Awe
Master Topics

Faith
Spiritual Growth
Self-Care
Culture
Relationships
Marriage + Sex
Parenting
Divorce + Blended Families
Friendship
Singles + Dating
Family
Church Life & Ministry
Women's Ministry
Mentoring
Service
Work
Career
Calling
Top Story
December 11, 2018
Live Love
There Is No "Safe" Jesus
The risky call to love like Christ
Issue Archives

The Next Chapter for TCW
The New Face of Infidelity
My Double Life as a Secret Addict
View All
Follow Us
More Newsletters
Today's Christian Woman :
Home
|
About Us
|
Site Map
|
Terms and Conditions
|
Site Map
|
RSS
|
Contact Us
|
Help & Info
|
Log In
Who We Are
What We Do
Stories
How to Partner

Careers
Media Room
Follow Us

Privacy Policy & Cookies
Terms of Use
Advertise

Help
Contact Us
My Account
Christianity Today strengthens the church by richly communicating the breadth of the true, good, and beautiful gospel.
Learn more
© 2018 Christianity Today – a 501(c)(3) nonprofit organization.