Skip to Main Content
NYU Steinhardt School of Culture, Education, and Human Development
Department of Music and Performing Arts Professions
Summer Programs
Summer Dance Intensive
Summer Dance Intensive Intro
"
Instructor Morgan Lamb Speaks About the Summer Dance Intensive
How to Apply
Request Information
International Applicant Information
Related Programs

Teaching Contemporary Limón
Summer Dance Intensive

Contact Us
The Summer Dance Intensive is designed for high school students, in their Junior or Senior year, with an interest in examining dance through multiple lenses. Focus will be on developing creativity, evolving technical and artistic skills, deepening an appreciation and understanding of the art form, and preparing students for future goals in higher education and careers in the dance field.
During this two-week summer session, students will:
engage in daily technique classes in Classical Ballet ad Modern dance
practice additional styles of dance, such as Jazz, African, and Hip-Hop
explore tools for improvisation and choreography
learn and perform original choreography for an in-studio showcase on the final day of the program
meet representatives and discuss topics, such as injury prevention, how to apply to NYU , and how to pursue a career in the dance field
attend several exciting performances around New York City
Dates:
July 8 – July 19, 2019

Application Deadline:

May 7, 2019

Costs & Fees:

$55 (Non-Refundable Application Fee)
$2,040 (Tuition)
$874 On-Campus Housing and Required Meal Plan
$80 ( Programming Fee )
International Applicant/Student Fee Information

Intended For:

High School Students
Faculty
Carla Flores-Keniston , Program Director
Carla Flores-Keniston is originally from Austin, Texas, but moved to Houston to attend the distinguished High School for the Performing and Visual Arts as a dance major. She later graduated from the University of Oklahoma with a BFA in Ballet Pedagogy, and later completed her Master of Arts in Teaching Dance in the Professions with a concentration in American Ballet Theatre's (ABT) Ballet Pedagogy from New York University. Ms. Flores-Keniston currently serves as program administrator, assistant director for the dance concerts, and as an adjunct professor for New York University's Dance Education program. She is a certified ballet teacher in ABT's National Training Curriculum, and currently teaches at ABT's Jacqueline Kennedy Onassis School in the children's division and as part of the educational outreach program. Some of her career highlights have been touring abroad in China and France, performing ballets such as George Balanchine's Concerto Barocco and Ben Stevenson's Sentimientos, and her work with Eliot Feld's Ballet Tech School. She continues to teach master classes at numerous dance schools in and around NY, and is now very excited to be the Director of NYU's Summer Dance Intensive.
Previous faculty have included:
Alexis Andrews
Alexis Arlene Andrews began her ballet training in Reno, Nevada under the direction of Maggie Banks and Dr. Barbara Land. Her training continued at Walnut Hill School for the Arts 01', the School for American Ballet Theatre, San Francisco Ballet School and the Joffrey Ballet School. Andrews has performed with the Nevada Festival Ballet, American Ballet Theatre Summer Intensive, University of Las Vegas's College of Dance, New York University as well as a principal guest artist with the A.V.A. Ballet Theater in productions of Swan Lake, Nutcracker and Sleeping Beauty. Other performing credits include the Bollywood movie "Jai Cherenjeva" the Bharata Natyam Dance Ensemble in Bangalore, India and a Natya Nectar Dance Company production in Hong Kong. As a dance educator she has taught and adjudicated throughout the nation and internationally for Dance Educators of America and Sheer Talent Ltd. In the summer 2015 Alexis traveled to Costa Rica to begin her own international ballet education tour collaborating with eleven studios. In 2012 she was accepted with partial scholarship into New York University Steinhardt Dance Education Program graduating in May 2014 with a Masters of Art for Teaching Dance in the Professions: American Ballet Theatre (ABT) Pedagogy and was awarded a certificate for Outstanding Achievement in Graduate Dance Education. Alexis is an ABT® Certified Teacher in Pre-Primary through Level Seven of the ABT® National Training Curriculum and is honored to begin her fifth year at Jacqueline Kennedy Onassis (JKO). In addition to teaching at JKO Children's Division, she is also a Teaching Artist for ABT, Coordinator and Instructor of Ballet at Northside Centers for Child Development, faculty at the Dance Theatre of Harlem and an instructor at New Canaan Dance Academy, Connecticut. You can follow her on Facebook and Instagram @alexisarleneandrews and www.AlexisArleneAndrews.com.
Ashley Oladehin
Ashley Oladehin is originally from Adams, Massachusetts where she grew up studying ballet, modern, jazz and tap. She holds a BA in Dance from Dean College in Franklin, MA where she graduated summa cum laude and received the Drusilla Carlson Phelps Award, for talent in performance and a future promise in dance education. Ashley has been teaching and choreographing throughout the Greater Boston area for the last 10 years, including at Massachusetts Institute of Technology and North Reading School of Ballet. Her choreography has been featured at various venues including the Boston Opera House. Last summer, she successfully completed the Horton Pedagogy teacher training at Alvin Ailey. She is currently a graduate student in the MA in Dance Education program pursuing a degree in Teaching Dance in the Professions at NYU Steinhardt. This fall, she will be joining the faculty as an adjunct professor at William Patterson University in New Jersey.
Jessa Rose
Originally from Orange County NY, Jessa has worked as a Musical Theater performer and choreographer for over 10 years. National Tour: Wizard of Oz, Networks Productions, 2008-2010 (Ensemble, Wicked Witch u/s). Regional Tour: Surflight to Go, Surflight Theater. Regional: 42nd Street, Oklahoma, White Christmas, Baggy Pants Burlesque, South Pacific. NYU Credits: 2017 Masters Concert— "Notice ME" (Choreographer); "Fashionista," "Shades of Spiraling" (Dancer). 2018 Distinguished Faculty Concert— "Going Gaga," "Love Thy Neighbor" (Dancer). Jessa served as the Assistant Dance Director for the Musical Theater Intensive Broadway Artists Alliance in NYC from 2006-2017. Jessa has choreographed original pieces for BAA, as well as original works for Harrison High School in Westchester. She has a BA in Theater Performance from Wagner College, and received her MA in May 2018 from NYU Steinhardt's Dance Education Program in the K-12 Certification Track. Starting this fall, Jessa will be teaching dance at The Gateway School in Manhattan.
Kaitlyn Yiu
Kaitlyn Yiu, from Los Angeles, started dancing at age three, and was trained in the Vaganova method before attending NYU Tisch School of the Arts in 2013. While in L.A., Kaitlyn received awards and scholarships in YAGP Regionals, L.A. Music Center Spotlight, and Valentina Kozlova International Ballet Competition (IBC); she also performed in the 2011 Anaheim International Dance Festival. Internationally, Kaitlyn competed as semi-finalist in International Ballet Competitions in Helsinki, Istanbul, Budapest, and Moscow. During her studies at Tisch, Kaitlyn worked with many esteemed choreographers and teachers, including Crystal Pite in her piece "Polaris" as part of Lincoln Center's White Light Festival. After graduating from Tisch in 2016 with a B.F.A. in Dance and Psychology and the J.S. Seidman Award, Kaitlyn made her professional debut with Houston Grand Opera in January 2017 as the female principal dancer in *Nixon in China. *She just recently graduated with an M.A. degree in Teaching Dance in the Professions/ABT Ballet Pedagogy at NYU Steinhardt, receiving recognition for Excellence and Leadership in Graduate Dance Education.
Morgan Lamb
Morgan Lamb is originally from Kingsport, Tennessee where she began her training at Studio One under the direction of Melita Brock Warner. At Studio One she trained in ballet, lyrical, tap, jazz, acrobatic, and hip-hop dance. Later, she attended the Savannah College of Art and Design (SCAD) where she graduated Summa Cum Laude in 2014 with a BFA in fibers and a minor in dance. While studying textiles she also developed her technical artistry as a dancer with her mentor Vincent Brosseau. Here she performed in multiple mainstage productions where she was featured as a soloist. In 2013 she completed an internship in London, England, with the bespoke embroidery company Hand and Lock. Currently, she is expected to graduate in 2018 with a dual-degree from Steinhardt (MA, Dance Education, Teaching all Grades) and Tisch School of the Arts (MFA Dance). During her time at NYU she has had the honor of performing in Crystal Pite's Polaris alongside her Tisch classmates and at Lincoln Center's White Light Festival in 2015. Through Steinhardt she completed the Limon Workshop, Teaching Contemporary Limon, where she deepened her knowledge of her dancing and teaching artistry. Morgan has taught in a variety of settings and is currently an assistant, and substitute teacher at Peridance Capezio Center.
Leyland Simmons
Leyland Simmons was born and raised in Anchorage, Alaska. He began his formal dance training with Barbara Devereaux of the Royal Academy School of Dance in Anchorage, Alaska and Michelangelo Canale of the Anchorage Classical Ballet Academy. He later studied at Interlochen Arts Academy, Dance Theatre of Harlem, Miami City Ballet, The School of American Ballet, Creative Outlet Dance Theatre of Brooklyn, The Ailey School and Ballet Divertimento in Montreal, Canada. Leyland is a Graduate of the Professional Performing Arts High School in New York City and a former member of Ailey 2 and Complexions Contemporary Ballet. Mr. Simmons has also performed with the New York City Ballet, Peridance Ensemble, Forces of Nature Dance Company, Nathan Trice's/Rituals, George Faison and Ballet X. Leyland has also performed at Jacob's Pillow, the Cincinnati, Moscow and Miami International Ballet Festivals. One performance of Mr. Simmons noted that he was "vibrant in his solo, whipping off multiple pirouettes…," and "he added powerful turns and jumps while remaining sensitive to the otherwise gentle ending." Leyland is also a sought after teacher having taught at notable institutions like the Dance Theatre of Harlem, Harlem School for the Arts, Steps on Broadway, NYU, and the Ailey School. He has also appeared in numerous film, television, and print projects such as the History Channel's Honor Deferred, The Conan O'Brien Show, YRB magazine, Law and Order, Starbucks Red Campaign, Puma, and Sansha. Mr. Simmons is also a graduate of the Workshop in Business Opportunites Program and a member of the School of American Ballet's Alumni Advisory Committee on Diversity and Inclusion. He is also a certified teacher in the American Ballet Theater Pre-Primary to Level Three Curriculum, and an American Ballet Theater Affiliate teacher. Leyland holds a Bachelor's degree in English from the University of Phoenix and will Graduate in the spring of 17 from NYU with a master's degree in Dance Education with a concentration in K-12 studies.
Afaliah Tribune
A graduate of The Ohio State University with a B.F.A in Dance, Afaliah Tribune studied and trained with Mrs. China White, former principal dancer of Dance Theater of Harlem. Afaliah has performed and toured with Rennie Harris Puremovement, Bebe Miller, Andrea Woods, Philip Hamilton VOICES, and many pop and R&B artists. She has also been featured on television specials for MTV and BET Networks. Her dance and music career have brought her to such places as Japan, Sweden and Africa as a sought after performer. Afaliah has held choreographic residencies and taught master classes at Middlebury College, Steps on Broadway, The Ohio State University, and Dance Africa. Also an accomplished singer and songwriter, Afaliah has penned songs for CBS network shows and for several advertising campaigns. Ms. Tribune founded Afaliah Tribune Dance in 2010. As a choreographer, rapper, singer and songwriter, Afaliah uses her various artistic skills and interests to create a marriage between movement and music in a way that speaks largely to all audiences. Afaliah is currently enrolled in the Dance Education program at New York University's Steinhardt School of Culture and Human Development and will receive an M.A. in Dance In The Professions in the fall of 2016.
Housing & Meal Plan Information
Minimum age allowed in NYU on-campus housing for a MPAP Summer Program is 15 years old.
Housing

Housing is not required, students may commute and will not be charged for housing/meal plan. Residential students will be housed in Weinstein Hall .
Summer housing application instructions are provided to admitted students only.

Meal Plan

Students staying in housing are required to have a meal plan (automatically assigned to student accounts when assigned a room in a residence hall).
10 meals and 30 Dining Dollars per week (if desired, admitted students can increase meal plan )
Move In Date: July 7, 2019
Move Out Date: July 20, 2019
Move In for programs will take place on the Sunday before the start of the program. Move Out will be on the Saturday after the last day of the program. Students must check out by 11am.
Costs and Fees
Cost and Fees

| | US Students | International Students |
| --- | --- | --- |
| Application Fee (paid at the end of Acceptd application) | $55 | $55 |
| Tuition Cost | $2,040 | $2,040 |
| Housing and Meal Plan (if on-campus) | $874 | $874 |
| Programming Fee | $80 | $80 |
| Health Insurance | Not Applicable | $355 Comprehensive Plan |
Accepted students will confirm their attendance once they have paid the enrollment deposit (detailed instructions provided in acceptance email). Residential students will have successfully registered for housing once they have paid the housing deposit and completed the housing application (sent via email after student confirms their attendance).
$150 Enrollment deposit:
Accepted applicants will make an enrollment deposit of $150 in order to confirm their attendance to their NYU MPAP Summer Program. Payment instructions are provided within the initial acceptance email.
$500 Housing deposit:
If staying in on-campus housing, students are required to pay a $500 deposit to reserve a space in housing.
The housing deposit is a portion of the housing charges, and is NOT a separate or added fee.
The housing deposit is applied to any housing charges on your bill. Any excess balance remaining will be applied to tuition fees or refunded to the student.
Please note: Application Fee, Enrollment Deposit and Housing Deposit are not refundable.
Paying the remaining balance
After paying the deposit(s), students are responsible for paying the remaining balance prior to the start of the program. While the remaining tuition may be posted immediately after deposits are made, the remaining housing bills are not sent until 2 weeks prior to the start of the program. Payment by credit card is not accepted by the Bursar's office to pay remaining balances, please contact the Bursars Office directly for questions about payment.
All fees, tuition and housing costs are charged to the students eSuites (online student billing system and personal account) via the NYU Bursars Office . Read instructions on accessing the eSuites account .
For information, see the Summer Finances page .
Receiving Your Admission Decision
All communications and admission decisions are provided via email (email account used when application was created).
Many program directors make admission decisions on a rolling basis once a completed application is received. However, applicants can expect to receive a final admissions decision email no later than two weeks after the final application deadline date.
Scholarship & Financial Aid
Scholarships are not offered in conjunction with this program.
Sample Schedules
Summer Dance Intensive Sample Schedules: Week 1 and Week 2
Current NYU Student Summer Application Information
Check List | Mandatory Health Insurance |

Have Questions?
As an international student, it is in your best interest to apply early! This will allow enough time between being admitted to a program and the start of the program to complete all international applicant steps via the NYU Office of Global Services and obtain the required F1 Student Visa from your countries consulate or embassy.
As such, International students must complete the 2-step 2018 MPAP Summer Programs Application in full by the Priority Application Deadline that correlates with your program of interest or by the Final Application Deadline if your program does not require a Priority Application Deadline.
Note: International student application requirements vary for programs occurring abroad (i.e. programs not on Washington Square Campus)
International Student Application/Requirements Check List:
Complete the 2-step 2018 MPAP Summer Programs Application
Submit proof of English language proficiency
If admitted into your program the next step is to obtain the required F-1 or J-1 student visa. You must:
First, complete the I-20/DS-2019 Application that is emailed directly to you (including processing fee receipt)
Second, follow instructions provided by the Office of Global Services (OGS) until visa completion.
Once on campus, international students must attend the international student check-in. Exact date/time/location is provided at student orientation.
Proof of English Proficiency (Required to Complete Application Step-1)
International students must provide English language proficiency.
English Language Testing Requirements:
If English is not your native language, you may be asked to show your proficiency by taking one of the following tests (results must be from the last two years):
TOEFL iBT (Test of English as a Foreign Language Internet-Based Test)
IELTS Academic (International English Language Testing System)
PTE Academic (Pearsons Test of English Academic)
CAE or CPE (Cambridge English: Advanced of Proficiency)
Who is exempt from English language proficiency testing?
Exemption will be given in the following circumstances:
If your native language is English;
If you are an applicant from the following country: Australia, Canada, Great Britain, Ireland, New Zealand, or Singapore;
If you have been studying in a school or college/university where the sole language of instruction is English for at least 3 full years at the time of your application; or
If your education has been completed entirely in schools/colleges/universities where the language of instruction is English.
*If you are UNABLE to submit your proof of English language using one of the formats listed above, you must email MPAP.Summer@nyu.edu detailing your reason why and be sure to include the name of the program you are applying for. We will contact you to discuss alternative options.*
I-20/DS-2019 and Visa Information
NYU requires students enrolling in courses (this includes summer students) to be at a ststus that would allow study such as a F-1 or J-1 visa. The NYU Office of Global Services (OGS) can assist you in obtaining an I-20 or DS-2019 to process your F-1 or J-1 visa. Once you have completed a program application, you will receive instructions for submitting the I-20/DS-2019 documentation. Contact OGS with specific visa related questions at newinternationalstudents@nyu.edu . You must be enrolled as a full-time student. All MPAP Programs are full-time and zero credit courses.
* International students are NOT permitted to study on a B-1 (tourist) visa
Please Note: International students currently studying in the US (at NYU or at another academic institution) who currently are in a F-1 or J-1 visa status are not required to submit additional visa documentation in order to enroll in summer courses at NYU. Unless they need to transfer their SEVIS record to NYU. Please contact OGS directly if this is the case.
International Student Check-In
Upon arrival in the United States, all international students must attend an International Student Check-In with the NYU Office of Global Services (OGS) in order to be in compliance. Prior to the start of your program, you will receive information from OGS about your scheduled check-in date and time.
Mandatory Health Insurance
At NYU, Student Health Insurance is required for F-1 and J-1 students.
International students are automatically enrolled in a Summer Term health insurance policy at a flat rate ( comprehensive plan ), but students have the option to downgrade to the basic policy if eligible.

To downgrade your Health Insurance plan, you must contact the NYU Student Health Center to see if you are eligible. For more information, visit the Student Health Center website .
Have Questions?
If you are in need of further assistance please contact the NYU Office of Global Services (OGS) with specific visa related questions at newinternationalstudents@nyu.edu , and be sure to include that you are applying to one of the "Steinhardt MPAP Summer Programs" and your full name. You can also contact MPAP Summer Programs at mpap.summer@nyu.edu or 212 998 5438.
Contact Us
Program Administration
Summer Programs
212 998 5438
mpap.summer@nyu.edu

Academic Content
Carla Flores-Keniston
Dance Education
Program Administrator and Adjunct Faculty
212 998 5400
steinhardt.dance@nyu.edu

Dance Informa Magazine

Features
New York Summer Study now Open to International Students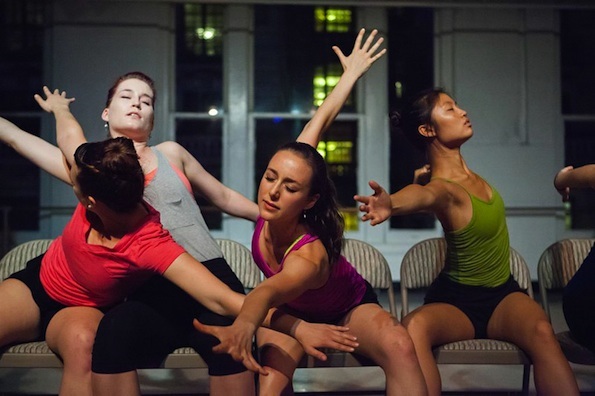 By Chelsea Thomas of Dance Informa USA .
Steps on Broadway, founded in 1979, is a central hub for New York's professional dance scene. Offering classes seven days a week in almost every style imaginable, the training centre is constantly bursting with activity and opportunity, with a steady pulse of vigor and inspiration.
Every summer since 2005, Steps has offered a summer intensive program, welcoming dancers from all over to train with some of the field's most renowned instructors. In the program's latest manifestation, Summer Study NYC, students have the opportunity to train for four weeks with New York's leading contemporary artistic directors and choreographers, and this year the program is open to international students!
So what are you doing this June/July? Freezing in Australia's winter or enjoying summer dance in New York City?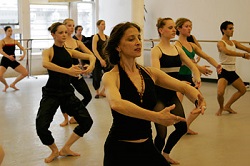 Jacqulyn Buglisi leading Contemporary Masters class at Steps on Broadway. Photo by P. Goode.
The program will be offered twice. Session 1 starts June 16 and concludes July 11 with an open performance. The application deadline is Friday, May 16. Session 2 starts July 14 and concludes August 8, also ending with an open performance. The application deadline for this session is Friday, June 20.
 The audition-based program is about total immersion in New York's contemporary dance world. It offers intermediate and advanced dancers age 18 and older the unique opportunity to study and perform under the direction of some of the best artistic directors and choreographers working today.
"Summer Study is a really great way for students to come to the city and just immerse themselves immediately in the New York professional dance scene," says Program Director Cassie Bednall. "Not only is our faculty phenomenal, but the atmosphere is great for helping aspiring dancers jumpstart their career. It pushes them into high gear."
Bednall explains that Summer Study is made up of three components: the Contemporary Masters Series, the Creative Tools classes and the Performance Skills classes.
First and foremost, the Contemporary Masters Series is "the core" of the program, helping dancers improve their technique while exploring movement, choreography and repertory in week-long workshops with master teachers. This year's teachers include: Aszure Barton (Founder and Artistic Director of Aszure Barton & Artists); Donald Byrd (Artistic Director of Seattle's Spectrum Dance Theater); Elisa Monte (former dancer with Martha Graham Dance Company, Lar Lubovitch and Pilobolus); Stephen Petronio (Artistic Director of Stephen Petronio Company); Benoit Swan Pouffer (former Artistic Director of Cedar Lake Contemporary Ballet); Pascal Rioult (Artistic Director of RIOULT Dance NY); and Kevin Wynn (Artistic Director of Kevin Wynn Collections.) Andrea Miller, Artistic Director of Gallim Dance, will also return to lead a workshop for the first time in a few years.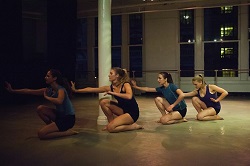 Summer Study NYC Final Performance in 2013 at Steps on Broadway.
Bednall says, "Many times, these choreographers don't teach in any other form. So when they come into our Summer Study program, it is a pretty special thing."
Whereas these classes are open to the public, the other classes for Summer Study students are closed, offering a separate, and yet still interactive, program. The second component of the program is the Creative Tools classes.
"These basically look at dance as a collaborative and creative process, and students learn different compositional styles from people like Sidra Bell, Mark Dendy, Loni Landon and others," explains Bednall.
The Creative Tools classes are developed and led by Elisa Monte, who is assisted by Tiffany Rea-Fisher. "Artists share their process, and dancers and choreographers learn collaborative approaches to movement creation and articulation," says Steps' website. Throughout their four weeks of study, participants create compositions that are presented in a showing at the end of each session in Steps Studio Theater.
Finally, the third component of the program is Performance Skills classes, led by Stefanie Batten Bland and Heidi Latsky. This closed class is "really about honing the performance skills of the student. It looks at how you not only convey the movement but also connect with your audience," says Bednall.
In addition to all these technical classes and opportunities for creative mentorships, Summer Study students are also able to attend lectures and demonstrations hosted by Steps Beyond, giving students another opportunity to learn from and network with industry experts.
Bednall says, "This year we'll be doing a choreographic panel where we are bringing in artistic directors and choreographers to talk about the creative process, show some film footage of their work and then talk about how they got there. There will also be a panel with our resident company, the Steps Repertory Ensemble led by Artistic Director Bradley Shelver. That's a closed panel just for the Summer Study NYC participants that's really about how they can survive as a dancer in New York, what the steps are for moving here and working towards becoming a dance professional. So that's really great for students, in particular those in college right now who really need that push and advice."
For students coming to Summer Study from out of state or abroad, Steps doesn't provide housing. However, dancers are given housing recommendations, such as Sara's Homestay, which has previously given special discounts and fee waivers for program students.
At this time, there are no scholarships available, however Steps hopes to offer these in the future. The tuition for one session of the program is $1,600 USD (for four weeks), and for both sessions it is $2,880 USD (for eight weeks.) At the end of each Summer Study NYC, students receive a Certificate of Completion.
"We have had students who were able to apply that to college credit in the past," says Bednall. "I know some colleges ask students to go do internships or acquire practical training during their summers and so this often can count for that, which is really fantastic."
For acceptance to the program, Bednall says international dancers must first apply and audition via video. "We're really looking for people who already have very strong technique because the program is very rigorous. We need to make sure they are able to absorb material as well as have the proper technique so they won't hurt themselves and can really benefit. Beyond that, we also look at recommendations from teachers and make sure that they're dedicated students."
All international students who wish to apply need to contact Cassie Bednall on Cassie@StepsNYC.com . For more information on Steps' Summer Study NYC program, visit www.stepsnyc.com .
Photo (top):  Summer Study NYC Final Performance in 2013 at Steps on Broadway.
Share this:
Tweet

Print

Related Items:
Andrea Miller , Aszure Barton , Benoit Swan Pouffer , Bradley Shelver , Cassie Bednall , contemporary dance New York , Contemporary Masters Series , Creative Tools , dance New York , dance summer intensive program , Donald Byrd , Elisa Monte , Heidi Latsky , Kevin Wynn , Loni Landon , Mark Dendy , New York dance scene , Pascal Rioult , Performance Skills , professional dance New York , Sidra Bell , Stefanie Batten Bland , Stephen Petronio , Steps on Broadway , summer dance NYC , Summer Study NYC , Tiffany Rea-Fisher
Recommended for you
Escape the Winter: Top 6 things you must do in New York

Why Do I Have to Take Ballet?

Study Abroad! Peridance offers international students the chance to learn from the best
Leave a Reply
Cancel reply
POPULAR
Featured

Sydney City Youth Ballet: Paving the way for the next generation

"Ballet is unique: It has no written texts or standardised notation. It is a…

Featured

Win a scholarship to Boys DANCE Summer School

Dance Informa is thrilled to announce the return of the Royal Academy of Dance…

Featured

Yellow Wheel's dance offerings for young artists

Yellow Wheel, established in Melbourne, in 2012, is an Australian pre-professional contemporary dance company…
FIND
Dance Auditions
Dance Events
Dance Studios & Classes
Suppliers
Full Time Dance Courses
Dance Costumes
Dance Summer Schools
Teachers
Choreographers
Dance Companies
Dance Jobs